Funny how rearranged my goals have become. For 95% of this training season the goal was to go under 4 hours - something I've never done (4:02:xx in 2008) but have felt capable of. In the last 2 weeks my goal has shifted to 3:50 - and my confidence is sky high, provided I can stay out of anything unexpected for the rest of this week. So, let's get to details, much of it mostly for my benefit (and with the warning that these are a lot of mundane details, but such is race day preparation...):
Nutrition
Starting today (Tuesday) I'll start to tilt my diet for the rest of the week towards slightly more carb intensive. Nothing crazy - not pasta every night, just a bit of an increase.
Friday night will be a large carbohydrate meal - planning pizza, which is a usual pre-race meal. Saturday night - the night before the race - I'll have a sensible pasta dinner at around 5:00pm. At around 7:00 or so I'll snack on a banana, maybe a PB&J. Hydrating well, as usual, throughout the week.
Race day nutrition - about 2 hours before the gun I'll my usual 2 packets of oat meal and a whole wheat bagel with peanut butter with some Gatorade. I'll sip Gatorade the rest of the morning.
Race nutrition - Nothing but water for the first 6 miles or so. At around mile 6 I'll have a gel and some Powerade (the on-course drink). From there out I'll have a Powerade about every 3 miles, and another gel at about every hour. I use the Powerbar gels - the first gel will have no caffeine, the second will be their "1x" amount of caffeine, and from there to the end I'll have "2x" caffeine gels. If all goes as planned, I'll likely take in my last gel at about the 3:20 mark of my race. Water as needed. Plan subject to change like everything else in the course of 26.2 miles.
Gear
I learned
a long time ago
to pretty much prepare for anything come race day, so (here's a helpful tip!) I've been packing my bag bit by bit since Sunday (a week before the race), so that if I think of something ("oh yeah, some thin gloves", for instance) I either go pack it right then when I think of it, or I add it to my to-do list so I make sure not to forget. So, I have contingencies in place for rain or cold, but as of right now the weather forecast looks just about perfect, with sunshine and a high of mid-upper 50's.
The essentials include:
Sugoi Fuel Tri Tank
This is the fancy Brand Champions exclusive kit, which as I really love Sugoi stuff and they happen to give me awesome discounts on stuff in calling me a "brand champion", I'm happy to share the love. This is a version of the same tank I've worn at Ironman Wisconsin 2006 and 2009, so it's tried and true. I like the fit, it's comfortable, provides some compression, and has some small but useful pockets (as opposed to too-big so stuff bounces around) for my gels. An all around awesome piece of kit.
Sugoi Piston 200 short
Two things I've learned about racing kit preferences through all my traithlon-specific gear: I love compression, and I don't care for floppy fabrics. The latter of which makes little sense because I train in the usual running shorts that we all do, but there you go. These shorts offer some compression through the quads and hamstrings, and I've found (mental or no) that for long distances the compression really helps with muscle fatigue. Plus, the more spandex the better, I always say. It's flattering, practical, and attractive on anyone, particularly me.
CEP Compression Calf Sleeves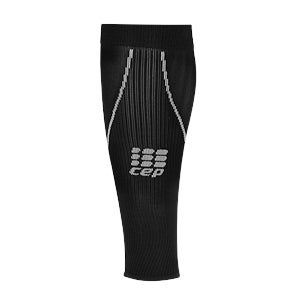 See above about compression. And spandex.
Nike Elite Running Socks
"Really?" You say, "Are we really now covering which friggin' socks you're going to wear?" Aha, but these are no ordinary socks, for they are magic socks. Actually mine are slightly different than what's pictured, and they're black, but they're awesome. See all those colors and swoops and stuff - they're all different thicknesses of material, or different elasticities, or different sewing angles, or something - but they're thin enough where they don't add bulk under my shoes, and they offer some really nice arch support/compression and blister protection. Which isn't to say I might not get a blister, but I really came to love these socks in training. They're awesome.
Saucony Kinvara racing flats
After experiencing one too many foot issues with my otherwise beloved Newtons, I decided it was time for a new racing flat and spent some time earlier this summer on the hunt. I tried several - and these are my new favorite shoe ever. They're light and responsive, the soles are cushiony without feeling sloggy, and they provide a little bit of spring and feedback. Love 'em. The toebox is just a shade narrow, so I may deal with a pinky toe blister late in the game - hopefully the fancy socks do their part.
Halo Visor
For a long time I wore Headsweats visors, but I guess I sweat a lot when I run and I kept finding myself having to take off my hat to wipe down my forehead. These Halo visors are interesting - they have a groove of neoprene along the headband that channels sweat away from your forehead and off of your temples, which is kind of a weird sensation, but it's easier to wipe down your temples, I guess, than your forehead. It's also made kind of interestingly - the headband part of the hat is really entirely detached from the visor part (kind of hard to describe), so it kind of looks a little odd on the head. Anyway, it's good stuff if you've been finding yourself too sweaty when you run.
One other thing I'll add, because it looks likely:
Sugoi Piston 140 L/S Compression Top
If the temperature looks to be in the lower 50's or slightly cooler for the race, I'll likely wear this under my tri-top. It's another great piece of compression kit, but it's not insulated or anything (don't think Under Armour Cold Weather gear, for instance) - it's really just enough protection to stay comfortable, but not necessarily warm. I wore it for a 10k race last weekend in conditions that look to be almost identical to the race day forecast and it worked great.
So to recap: I'll be the guy in spandex.
Pacing
Well that was fun, but here's the stuff that really matters.
The Twin Cities marathon route is largely flat, even slightly downhill, except for a couple of hilly bookends. There's a bit of a climb from about mile 2 to 2.5, and a steady, sometimes pain-in-the-ass climb from about mile 21.5 - 23.5. The early climb I'm not worried about and will take care of itself. The later climb will hopefully be something I can strategerize around.
I'm going to line up with the 3:50 pace group, and aim to hold an 8:45/mi average. I'm not going to shackle myself to that group, or even that pace - particularly on descents, while I'm not going to go balls to the walls sprinting down or anything, I do like to just let gravity do the work there. Likewise if I feel like it's most sensible to back off, I'll let that group go. But ideally, somewhere in the later half of the marathon the 3:50 group will be either right with me, or slightly behind me.
I'm breaking the race into sections with its own strategy. The first half I'm not worried about - stay comfortable and easy. In fact, up to mile 15 it's just about settling in and running my race. From miles 15-18 I think I'll have a bit of a headgame - I want to remember this is just an easy 5k. At mile 18, I want three things to happen. First, to have stayed positive and comfortable so that I can think - I have 8 miles to go, that's just an average weekend run, no big deal. Second, to think again that I have a 5k to mile 21, and that's no big deal, and third - to try and push the pace just a bit if I can for that 5k. I'd like to arrive at mile 21, in advance of the last hilly section, with just a bit of cushion, or at least momentum.
The hills through mile 23 will take care of themselves. I'll keep the "crest", at around mile 23.5, as my beacon. Once I reach that, it's all downhill to the finish. Once I reach that crest, it's pedal down to the finish line - whatever I have left. The goal is 3:50. The secondary goal is anything under 4 hours.
So really, the race is broken up into manageable, thoughtful sections - the first 15 are really just comfortable, even considered a warm up. 15-18 are strictly mental - "it's just a 5k". 18-21 is more intentional - pushing the pace a bit for 5k - there is no spoon. 21 - 23.5 are about getting up the hill comfortable and in charge of myself. 23.5 to the finish is whatever I have left.
I think the only way I'd be disappointed with myself or my effort is if I execute poorly. If I blow the things I'm in charge of. The unknowns about going 26.2 - well those will show up, that'll happen, and I'll deal with it. If it means a sacrifice or rearrangement of my goals and priorities while on the fly, that's fine. If everything goes according to plan and I just physically can't hang, or blow up at some point, well that's fine too as long as it's not because of something stupid like missed nutrition or something else in my control - if I go down in flames, it'll be only because I lit the fire. I'm setting an aggressive but realistic goal for myself. If the day proves me wrong - that's racing. But I feel strong. Excited. Ready to roll. Just looking forward to the energy of race day more than anything else, I think. Another opportunity to be out there, to appreciate the fitness just to do this sort of thing, to enjoy a fall day doing something I love. It's not rocket science after all, any of it.
So, that's it. To do my best and choose extraordinary. Updates to come as race day approaches. See you at the gun.